"Woody: The Biography"
"WOODY ALLEN BIOGRAPHY IS SUPERB"
by Thane Rosenbaum, The Huffington Post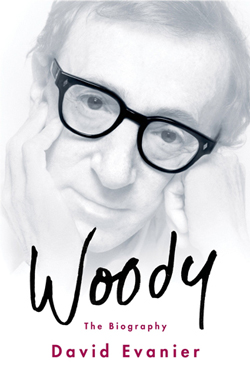 "David Evanier could have probably picked an easier subject than Woody Allen for his next book project. A novelist, bestselling nonfiction writer and a former editor of The Paris Review, Evanier was the perfect polymath to take on Allen's own repertoire of artistic talents and bag of tricks - director, screenwriter, playwright, essayist, actor, stand-up comic, jazz musician, and magician.
But it was by no means an easy task to research and write Woody. Although a fixture of New York culture and an enigmatic celebrity since the mid-1960s, Allen has been an elusive, reclusive figure - despite being the occasional target of tabloid fodder.
A man who doesn't want to be noticed probably shouldn't live in the city that he has so adoringly romanticized in such films as Annie Hall, Manhattan, and Radio Days. Allen's movies are time capsules of a bygone New York even though the man who made them is as relevant as ever.
Allen has nearly always been reluctant New York royalty. Yet, he has had a curious way of going about his anonymity. Season tickets to the Knicks and weekly jazz band gigs at the Carlyle Hotel, an infamously publicized child custody lawsuit against Mia Farrow, fending off unproven charges of child molestation, and a lawsuit against one of his closest friends and former producer, along with writing and directing a film a year, made it nearly impossible for Allen to have circumvented the bright lights of his public persona.
He has remained a New York character worthy of the parts he has played in his own films (many believe he has cast himself in so many of his movies precisely because he wouldn't need to do much acting), and yet there have been few biographies written about him. Never has he had much interest engaging with the masses - whether in person, or at the box office (so few of his forty-seven movies drew large audiences). He has remained a boutique filmmaker - a steady workhorse making relatively low-budget movies featuring A-list actors who are willing to forgo their usual fees just to appear in one of Allen's films.
He famously has not attended the Academy Awards (nominated twenty-four times), never having personally claimed any of the Oscars he has received. He rarely speaks to the press or cooperated with any of the very few biographies written about him. (He only marginally assisted with this one.)
But Allen has been coming out, as of late. PBS devoted an American Masters profile on him. And he has had a string of recent film success with Midnight in Paris and Blue Jasmine. It appears to be the right moment for yet another look into the godless, existentially preoccupied world of Woody Allen. Evanier's Woody, arguably the best of the lot, does a terrific job of pinning him down and truly fleshing him out.
Perhaps that's because in this case, the biographer is at one with his subject. Evanier's admiration for the director is evident on every page; the book is very much a valentine to Allen's contribution to cinematic history - whether he is, indeed, a genius auteur or a capable amateur whose films have received far too many green lights over the years.
Beyond Allen's career as an artist, Evanier takes a stand on his merits as a man. He makes the case with lawyerly finesse that Allen received a raw deal in his custody fight for his children, and he exposes the unethical treatment Allen received from the Connecticut district attorney who chose not to prosecute Allen for child molestation, yet still essentially pronounced him to be a pedophile. Woody serves as an irrefutable brief pronouncing Allen innocent.
Along the way Evanier speaks with a number of people who knew Allen well, including a long interview with Dick Cavett, Allen's first wife, Harlene Rosen, his longtime manager, Jack Rollins, his casting director and cinematographer, and some of the film critics who have consistently followed Allen's career, such as Annette Insdorf.
What results is a portrait of a hard-working, multi-talented Jewish artist who became the most famous neurotic to have ever occupied a director's chair. Allen has written some of the best parts for women in film history (Annie Hall and Blue Jasmine, as examples), and has single-handedly created an enduring cinematic image of the hyper-verbal, morally agonized, mortality obsessed cosmopolitan Jew.
It wasn't easy to deliver such a poignant, lucid and lovingly written biography of a man who has lived such a richly eventful life making mostly wonderful films with the sleight of hand of a former magician from the Borough of Brooklyn."
"Booklist"-- Starred Review
Evanier's mission in this major biography of writer, director, and actor Woody Allen was to "make Allen known and understood in a deeper way." By dint of numerous interviews, fresh, nuanced perspectives, and a strong grasp of complex personalities and situations, Evanier succeeds. We see young, small, but tough Allen disgusted with his mother and school, enthralled by magic tricks, movies, and the clarinet, and establishing his lifelong dedication to writing to cope with "brutal realities." Evanier charts Allen's great success as a television writer and his rise as a stand-up comic performing startlingly imaginative and gutsy monologues. Evanier neatly separates the "indefatigable, resourceful, tenacious" artist from his camera-ready persona as a nebbishy if wily loser as he discusses Allen's unique securing of total artistic independence as a filmmaker and provides the lowdown on his indelible films, one a year from 1965 on, from his fiascos (Interiors) to his finest (Evanier names 23, including Annie Hall, Broadway Danny Rose, Deconstructing Henry, Midnight in Paris, and Blue Jasmine). Here, too, are Allen's marriages and the deeply disturbing details about his relationship with Mia Farrow and court battles over allegations of child sexual abuse. Evanier's superbly sourced, meticulously interpreted, and briskly paced biography affirms that Allen, about to turn 80, is as creative, driven, and uncompromising as ever.