- Reviews -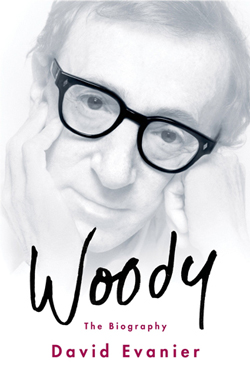 WASHINGTON POST: "'Woody' is a thorough account of the writer-director's life and influences....written with great passion for the subject's filmography....But this work is not purely a work of sycophancy, and its language is just as blunt about Allen's failures. 'Woody' also digs into the scandals that swirled in the wake of his split from Mia Farrow including Allen's romance with Farrow's adopted daughter, Soon-Yi Previn....and accusations that he sexually molested Dylan Farrow, Allen's adopted daughter with Mia Farrow....Evanier makes a strong case that Allen didn't molest his daughter."
USA TODAY: "Woody Allen turns 80 today, and David Evanier has a present waiting for him:'Woody: The Biography.' 'This is not a blow-by-blow or a standard critical biography,' Evanier writes. 'I want to add what has been missed about his work while sketching in some essential brushstrokes of his life and career.' And with new material including interviews with artistic collaborators plus friends and family, Evanier (a former fiction editor of 'The Paris Review') succeeds....Evanier necessarily examines the central themes of Allen's work and connections to his life: Judaism, psychology, sex and infidelity, Manhattan (forever idealized) and Hollywood (forever demonized)....Evanier adds some valuable color and insight in particular to Allen's early life in Brooklyn, where the mischievous icon-to-be practiced magic, pulled a few less-than-ethical sleights of hand, and did what he had to do to get the girl (including 'bird-dogging' or stealing his friend's dates)....If Allen,' Evanier concludes, 'did not have one transcendent work, as he contends, and I think he has many-his record of consistent memorable films would accord him a permanent place as one of the great directors of all time.' Point taken."
LONDON TIMES: "She is the forgotten first wife of Woody Allen, who married when she was 16 and later took legal action to stop the actor and director mocking her after the union ended bitterly. Now, nearly 50 years later, Harlene Rosen has ended hostilities with an affectionate public message to mark his 80th birthday, recalling their 'laughter and love' as well as 'tears.' The tribute appears in 'Woody,' a new biography published by St. Martin's Press. Rosen sent the message to David Evanier, its author....The book also includes interviews with some of Allen's childhood friends, who remember both 'the funniest person' and a youngster full of anxiety....Jerry Epstein, a psychiatrist, said he got Allen into psychoanalysis when he was 20. The book tackles accusations of sexual abuse made by Allen's former partner, Mia Farrow and her adopted daughter Dylan"
LIBRARY JOURNAL: "Evanier provides rare insight into the notoriously private life of his subject and explores the rich textures of his films....Evanier covers many of Allen's films, discussing plot points and significant themes. He also delves into aspects of his life that have helped create his public persona. This book, released to coincide with the director's 80th birthday, is recommended for serious fans of Allen's work. There is enough biographical information to satisfy any curious reader, but the in-depth analysis of his professional endeavors is the book's real strength."
LIZ SMITH: "A fascinating, often scholarly, but still intimate biography....Allen will likely never have such an impassioned, intelligent, objective admirer of his work! There is plenty of material on his personal phobias, shyness, surprising warmth and generosity, coldness, obsessiveness, and a work ethic that is second to none. The blistering, info-packed chapter on the Farrow scandal doesn't absolve Woody of a lifelong tendency to evade responsibility in certain aspects of his personal life, but to read it is to have the words 'Hell hath no fury....' ringing in your ears. For any student of Woody -- a man who simply won't, can't stop working and re-inventing -- this book is gold."
FISHBOWL/ADVERTISING WEEK: "Author David Evanier uncovered a fascinating tidbit for his new biography of Woody Allen: 'Here's the kind of discovery that biographers love: Woody Allen's boyhood pal Jerry Epstein, now a psychiatrist and author, told me that Woody's birthday is not really December 1; it is November 30. 'But Woody wanted to be Number One,' Epstein said.' Evanier had a lot of email correspondence with Allen while writing the book. That conversation eventually led to one face-to-face meeting, which the author writes about....Evanier gave Allen a copy of his 2008 novel 'The Great Kisser.' Allen, after promising to read the book while traveling to Cannes, did just that and sent his comments to Evanier within a week of returning. Pretty impressive.....The tome is definitely worthy of holiday shopping consideration for anyone with an Allen fan on their list."
LONDON DAILY MAIL: "Did Frank Sinatra ask the Mafia to murder Woody Allen? A new book sensationally says he did-as revenge for betraying the singer's ex-wife Mia Farrow. The allegation was made to David Evanier, the author of the biography, 'Woody.'"
FLAVORWIRE: "16 MUST-HAVE GIFTS FOR THE MOVIE GEEK IN YOUR LIFE. It's a tricky time to put out a Woody Allen bio, and credit where due: David Evanier's biography engages with the recent firestorm around the filmmaker, although it is (unsurprisingly) sympathetic to Allen. But Evanier's also not an apologist, and the book offers a fair assessment of Allen's work."
LOS ANGELES TIMES: Holiday Recommended Gift Guide. 'Woody' at the top of the list.
JOE HELMREICH, AMAZON CUSTOMER REVIEW: -A GENUINE PLEASURE-"'This is not a blow by blow or standard critical biography,'" David Evanier tells us in the first chapter of 'Woody' and thank goodness for that! What he delivers instead is so much more inviting, an infectious celebration of Allen's life and career, brimming with fresh insights, journalistic scoops (some of which have made headlines since the book's release) and enlightening anecdotes and observations from those who know the man best-including Woody himself, whose 'participation without participating' is one of the highlights of this book....One of the more striking takeaways is just how starkly the real Allen, an ambitious but uncompromising genius, contrasts with the schlemiel he has portrayed for so long. Another high point is when Evanier, in the intro, catalogues some of the many magical moments his subject has conjured over the course of his 50-odd films (reading this will no doubt trigger additional memories for the reader as it did for me).There are also charming and illuminating reminiscences from childhood friends, who paint a portrait of a streetwise, mischievous prankster who dangled his cigarette like Bogart and could gamble you out of your socks, as well as behind the scenes accounts of some of the real people in Woody's life who turned up as immortal characters in his films. More than anything, 'Woody' makes you want to queue up Netflix and re-watch your favorite Woody Allen classics immediately--provided you can put down the book long enough to do so!"