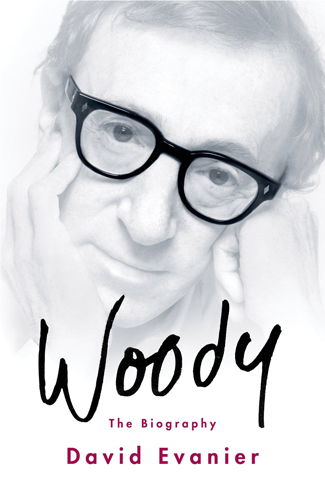 Upcoming Readings
"Woody: The Biography, with David Evanier, a former senior editor of 'The Paris Review' and the author of ten books"
Wednesday, February 10, 2016, 6:30 pm
@ New York Public Library
Location: Mid-Manhattan Library
"Morality, sexuality, Judaism, the eternal struggle between head and heart ... these are the themes Woody Allen has spent a lifetime exploring"
Tuesday, April 5, 2016, 12 pm @ 92ndY
Location:Lexington Avenue at 92nd St
Price: from $25.00
"Booklist"-- Starred Review
Evanier's mission in this major biography of writer, director, and actor Woody Allen was to "make Allen known and understood in a deeper way." By dint of numerous interviews, fresh, nuanced perspectives, and a strong grasp of complex personalities and situations, Evanier succeeds. We see young, small, but tough Allen disgusted with his mother and school, enthralled by magic tricks, movies, and the clarinet, and establishing his lifelong dedication to writing to cope with "brutal realities." Evanier charts Allen's great success as a television writer and his rise as a stand-up comic performing startlingly imaginative and gutsy monologues. Evanier neatly separates the "indefatigable, resourceful, tenacious" artist from his camera-ready persona as a nebbishy if wily loser as he discusses Allen's unique securing of total artistic independence as a filmmaker and provides the lowdown on his indelible films, one a year from 1965 on, from his fiascos (Interiors) to his finest (Evanier names 23, including Annie Hall, Broadway Danny Rose, Deconstructing Henry, Midnight in Paris, and Blue Jasmine). Here, too, are Allen's marriages and the deeply disturbing details about his relationship with Mia Farrow and court battles over allegations of child sexual abuse. Evanier's superbly sourced, meticulously interpreted, and briskly paced biography affirms that Allen, about to turn 80, is as creative, driven, and uncompromising as ever.